3D vision technology works with robots to create dreamy vision
With the continuous advancement of science and technology, robot systems with human vision are no longer the dreams of science fiction. In the future, the 3D vision system will become the standard add-on device for robot systems, and work together with robots to create a dreamlike vision.
Edward Roney, manager of Intelligent Robotics and Vision Systems at Fanuc Robotics in Rochester Hills, Mich., explains: "Using the processor provided by today's state of the art, we can actually observe multiple images and one object. The geometry is analyzed in real time." Fanuc developed the first industrial integrated 3D vision system called iRVision, which has been applied to all Fanuc R-30iA robot systems.
All processes are performed by the CPU unit on the master robot, so there is no communication delay and no additional hardware is required.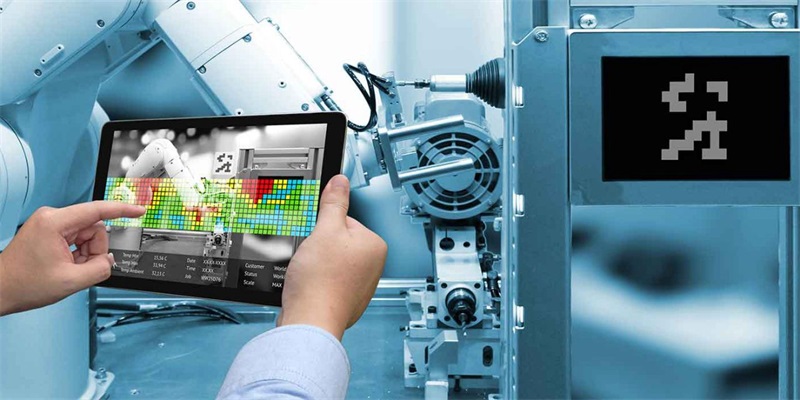 Figure 1: A FANUC M-710iC/50 robot with iRVision 3DL vision system is picking parts from a cart with casters and transporting them to the inspection station for inspection errors before placing them on the conveyor. on.
Ellison Technologies Automation of Iowa is a complete supplier of robotic systems and a technology consulting firm. According to its president, Mr. John Burg, as production demands continue to increase, production technology continues to evolve, and robot costs continue to grow, In the next few years, the 3D vision system will become the standard add-on device for robot systems.
Mr. John Burg said: "Now production technology is moving forward at a fast enough pace, but prices are rising, and customers are increasingly demanding ease of use and flexibility in vision systems." Mr. Burg believes that Fanuc The application of robots and 3D vision systems has matured and has been working together in a series of activities such as logistics, welding processes and machine tool loading and unloading processes. This technology will help improve work efficiency, reduce labor costs and improve product quality. He explained: "One of the goals of adopting new technologies and installing new equipment is to reduce production costs over the long term."
So why is 3D vision technology more and more popular? Because as the processing power increases, the cost of the processor and memory continues to decrease, the programmer can do more work, not only to take an image, but also to compare it with the corresponding reference model, and the early big Part of the 2D visual image is based on this technology.

Development of the visual system

The robot vision system was first applied to the complete vehicle body production robot of the automobile production line. If there is no vision system, special tools are needed to machine the aperture on the body so that the robot can know the exact location of the body. However, after the development of the vision camera system, such expensive processing tools are no longer needed. The robot can automatically determine the exact position of the body and then mathematically calculate the position of the four apertures.

Figure 2: the parts for the 12 assemblies are placed on a trolley, with the correct parts for each assembly in each slot. The FANUC M-16iB robot uses the iRVision 3DL vision system to get the car in place.

Mr. Roney of Fanuc further explained: "From a very early age, we realized that using a vision system is a good way to reduce the cost of tools. Processing tools are very expensive and fixed. If the manufacturer needs to change the model in the second year, then all the tools must be updated." According to Mr. Roney, after using vision technology, automakers can save millions of dollars annually in mold and fixture manufacturing.

How the vision system works

The vision system uses computing techniques to identify images and then teaches the robot to identify things and find what they need. The image is based on a large amount of pixel data, and each pixel in the series has a gray level, and then the data is analyzed by arithmetic techniques.

The robot can determine the location of the image, so it can identify the location of the object, and then determine its corresponding size, shape and quality; you can also change the program according to the image and algorithm, for example, different sizes of parts can use different paths Part A will fall where part B should fall.

David Dechow, president of Aptura Machine Visioning in Lansing, Mich., explains: "Robots with vision systems will eventually be able to manipulate any type of part in any direction." Using the supplied camera system or remote control camera You can get a fast shot of an object and find the relative position of the object to the robot. Mr. Jeremy Pennington, control engineer at Guide Engineering in Ft. Wayne, Ind., said: "The FANUC robot can then use this position data to determine where the object is located, regardless of where the robot is moved."

3D vision system application

The 3D vision system can be used in many fields, where the picking of parts in containers, the handling of workpieces on machine tools, and applications in the field of packaging and soldering have achieved satisfactory results.

Figure 3: The FANUC LR Mate 200iC robot is picking up the computer chips stacked in any position and then discharging them in place.

1. Part picking applied to the container

So far, robots have been used primarily to pick up any parts that are stacked in a container. To achieve this goal, three basic factors need to be met: vision systems, container anti-collision and anti-collision monitoring systems. The need for a vision system is undoubted, because you first need to find out where the part is. However, relying solely on the wall of the container for testing has certain limitations, as the gripper of the robot will further penetrate deep into the bottom of the container, so the picking of the part will become more and more difficult. The styling used to pick up parts in the container fully understands the limitations of the part's picking tools, sensors, and robotic arm itself. Under such working conditions, once the position of the part is determined, the robot begins an automatic calculation to determine if it can actually pick the part from the container. The third factor is anti-collision detection. Eventually, the robot will inevitably touch the wall of the container, so it needs to distinguish whether it is a soft or hard contact, which can damage the robot system if it is hard.

Mr. Roney of Fanuc said: "We have used robots to achieve great success in the structural and arbitrary picking of parts in containers." The so-called structural picking of parts means that every part in the container is facing up. And arbitrarily picking up parts means that the parts are stacked arbitrarily in the container. Mr. Roney believes that the latter part picking method is more challenging, but if you have the above three factors (visual system, container anti-collision and anti-collision detection system), then everything is possible.

2. Workpiece loading and unloading applied to machine tools

Mr. Burg of Ellison Technologies said: "In many applications, after picking up parts, they are directly mounted on the machine for machining. In most cases, the machine's fixture system does not allow the robot's parts to be installed. Any errors." Therefore, the precise seating of the parts is critical to the part's clamping system.
The robot is able to determine the location of the image, so it can identify the location of the object and then make a corresponding judgment on the size, type and quality of the object.

Figure 4: The Fanuc LR Mate 200iC robotic system is categorizing and automatically picking bolts of various sizes and shapes from the smart part conveyor.
Without these features, the machine can experience a costly failure. Therefore, the use of visual technology facilitates the correct positioning of the parts.

3. Applied to the field of packaging

Vision technology is also critical to packaging applications. For example, food products often need to be transported to the food picking area by conveyor or slider device, so there is no problem of repeated positioning. But in fact, because the food is in different locations, a process of reorientation and picking is required and then placed in the box. The vision system helps the robot find the appropriate food and complete the packaging task as required.

4. Applied to the field of welding

When welding, the robot can utilize the vision system to accommodate subtle changes between the two welding factors. Even in spot welding applications, vision techniques can be used to correct errors.

The application of the system in practice

Ellison Technologies Automation installed a robotic system with 3D vision technology for processing panels. The sheet is cut from the original slats, then dropped into a bucket and transported to a robot-equipped workroom where a hard material is applied to the panel to make it have a longer Service life.

Figure 5: The Fanuc R-2000iA robotic system is visually selecting metal parts from the conveyor belt.

Mr. Burg explained: "The welding process can contaminate the clamps. If the clamps touch new parts, the parts will be contaminated." Before using the vision technology, the necessary adjustments had to be made manually. Now, every location on each part can be verified. "This technology allows the robot to display the condition of the entire part through a 3D camera system," continues Mr. Burg. "It allows operation without human intervention."

In the 10 years prior to the adoption of vision technology, the company has four Panuc robot systems, and at least one robot system often requires manual adjustment. Now, the company only needs three robotic systems to do the same amount of work, and there is very little manual intervention.

The future of 3D vision systems

What changes will happen to future robotic 3D vision systems as production costs are further reduced and more powerful systems are adopted?

Mr. Roney of Fanuc replied: "There may be a more interesting so-called visual servo system. So far, the vision system we are considering is only looking for an object in time through a certain point." Parts are often in motion. At this point, using a single-point on-time fast camera may not work well; using a visual servo system can continue to get a variety of information about the position of the object. This system allows the robot to guide the work and always know where the object is.

Mr. Roney suggested: "This system will be used sooner or later on the assembly line because the assembly is always suspended on a continuous drive chain or other material handling device on the assembly line." Even if it is not Further development, but it is clear that the processing power of this visual servo system will continue to increase, and the production cost will also gradually decline. In the next few years, this combination can make 3D vision technology more widely used.

FANUC and Mitusbishi electronic parts in stock here you can find more:

http://www.fanuccontroller.com


Any questions you can email us:

info@fanuccontroller.com

sales@tzswcnc.com

or whatsapp/skype:

+86 18621369627 +8618297400880